Windows 8/8.1/10 Connectivity Guide
Step 1.
Click the Wi-Fi icon on the taskbar.


Step 2.
Click wifi@mp.
(Note: Check 'Connect Automatically' if you wish to connect automatically to the Wi-Fi when it is in range.)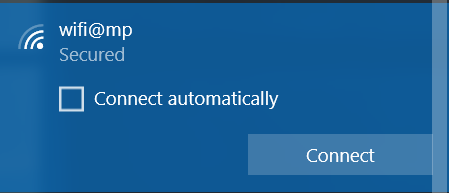 Step 3.
Click Connect.
Step 4.
Enter your student/staff ID for your username and your password.
Click Connect
You should be connected to wifi@mp now