Graduate and lead singer of Stonefield, Amy Findlay has outstanding skills in music.
Amy obtained a Bachelor of Australian Popular Music in 2010, and won the Triple J Unearthed High competition. Since then, she's played at the biggest music festival of the world and is soon to begin her first national tour. We're so proud of Amy!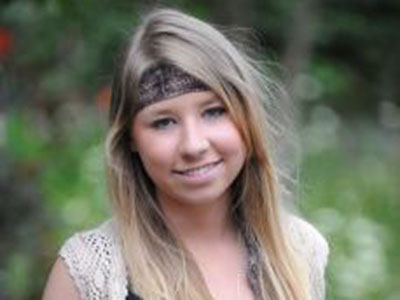 Amy chose our Bachelor of Australian Popular Music (now known as the Bachelor of Music) because of its variety. "I didn't want to focus on just one genre. The Melbourne Polytechnic (previously NMIT) course seemed open to different styles."
She focused on her singing technique before becoming excited and interested in the song writing classes. The course included weekly song writing workshops where students could develop their work and record tracks in a sound studio. Amy made the most out of this opportunity to work on 'Foreign Lover', the song that would make her band famous.
Made up of Amy and her three younger sisters – Hannah, Sarah and Holly – Stonefield (formerly known as Iotah) won Unearthed High, a competition to find Australia's best high school band, in June 2010. Amy and her school-aged sisters beat 600 other songs to win the title.
They have released two singles, played at the J Awards, supported The Cat Empire and British India and played at Perth's One Movement Festival and the Pyramid Festival. It was their invitation to the Glastonbury Festival in the UK which signalled their arrival into the music industry. Stonefield played for a crowd of tens of thousands, who showed their appreciation for the music heavily influenced by 70s rock and blues artists such as Jimi Hendrix and Led Zeppelin.
Throughout her studies, Amy found the support and expertise of her teacher, Greg Arnold from ARIA Award winning band Things of Stone and Wood, invaluable in tidying up her musical arrangements and polishing her song writing. He helped Amy and her sisters record and produce their award-winning song.
"During the NMIT degree program we work on the song writing, assist students to craft the songs and take their work through to demo stage so students can get an idea of how to communicate their song to a broader audience," Arnold says. "We encourage students to bring in a lot of the ideas they're working on and we really workshop the material, focusing on melody, lyrics, chords and structure."
Other areas of the course such as industry and business subjects helped Amy develop the band into a success. For example, their band name was changed from Iotah to avoid copyright issues and they applied for grants to support the cost of performing and distributed their music online.
Last year they supported Fleetwood Mac on their Australian tour, and recently released their sophomore LP, As Above So Below, in July 2016. Get the latest information on their Facebook page.